Brief Introduction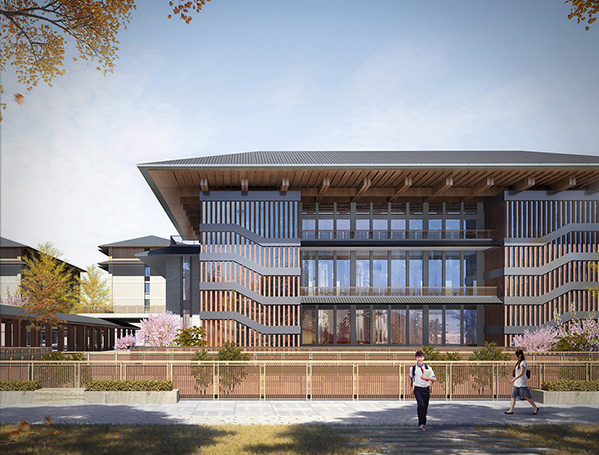 Since 1989
The Cradle of Elites, the Bridge to the World
Chengdu Foreign Languages School (Deyang Campus) is a major livelihood project introduced by Deyang government who aims to accelerate the integration of Chengdu and Deyang and to stimulate the development of education in Deyang. It is an elite 12-year system school which stands at a high starting point with high-standard and high-quality education system and is directly under the authorization of the education bureau of Deyang.
The school is located in the center of Tianfu Eco Smart Valley, encompassing 266,800 square meters and lying between mountains and a river. The campus design considered not only the campus itself but also the surrounding geographical and ecological environment. In addition, the tasteful architecture is heavily influenced by Han and Tang cultures, making the school an ideal place for study. Moreover, the school was built with 1.45 billion yuan invested by Greenland group and Deyang government. Thus, with a range of advanced facilities, the school has become the model of informationized and modern education in Sichuan province.
Chengdu Foreign Languages School (Deyang Campus) is directly under the administration of Chengdu Foreign Languages School (Main Campus). CPC Committee Secretary and Principal of CFLS Gong Zhifa serves concurrently as the Principal of CELS (Deyang Campus). Principal Gong Zhifa has many titles including Master teacher in Sichuan province, China Mathematics Olympiad senior coach, Top 10 leaders in China's private education sector, Vice President of the Sichuan Association for Non-Government Education, Chairman of Primary and Secondary School Committee in Sichuan Association for Non-Government Education and Top 10 Private Education Principals in Sichuan. An excellent and professional group of administrators, teachers and Olympiad coaches will come to Deyang campus and take on the school administration and teaching responsibilities.
Founded in 1989, Chengdu Foreign Languages School is the first secondary school featuring in teaching various foreign languages with the approval of the Education Department of Sichuan Province and has been nominated by the Ministry of Education as a foreign languages school to recommend graduates to reputable universities in China without taking the college entrance examination (CFLS is the only one in Sichuan province). In addition, the school has been given the titles as National Experimental School of Nurturing Top-notch and Creative Talents (there are only 6 in Sichuan province), Top 100 secondary schools in the country, National Model Foreign Languages School and is selected to be the most influential education brand in 40 years of reform and opening-up. In recent years, its annual rates of graduates to first-class Chinese universities is over 98% and every year, more than 40 students are admitted to some domestic top-ranking universities such as Peking University, Tsinghua University and Hongkong University etc, which leads the development of private education in Sichuan province.
Study & Courses
School Curriculum

Diversified Curriculum· All-round Development

National Conscience Curriculum , World Vision Curriculum ,Quality Development Curriculum , Practical Innovation Curriculum

Six Dimensions

Top-ranking class· Top-ranking quality

Optimized Course Design  , Optimal Teaching Process  ,  Constructive Teaching Comments ,  Optimum Teaching Administration , Harmonious Teaching Atmosphere  , Optimal Teaching Effect
Honorary Qualification

The Cradle of Elites, the Bridge to the World
hanks to its brilliant achievement and wide influence, CFLS becomes famous in Sichuan Province and in the whole country. And it has been praised as "the flagship school of private education in western China"!